This article will guide you on how to go about TSC Online Payslip registration, how to view it and download it on the TSC website.
The TSC portal allows you to access many services for teachers online. For example, you can register to view and download your payslips online at any time.
Lets's get started.
How to register for TSC Online Payslip
To get access to your TSC payslip online, you need to register first. Visit your nearest TSC county office. Carry your original National ID Card for identification purposes. They will register you and provide you with a username (TSC or ID Number) and a password. You will use these details anytime you want to access your payslip online.
How to view your TSC Payslip Online
After registering, you will use the login credentials provided for you by the county office.
Then you can log in on the T-pay system. The T-Pay portal is provided on the TSC website, where registered teachers can access their TSC Online Payslips. You can also access your p9 form here and be able to send your payslip directly to banks or SACCOs if you need a loan.
Visit T-Pay to get started, and you will see a screen like this below: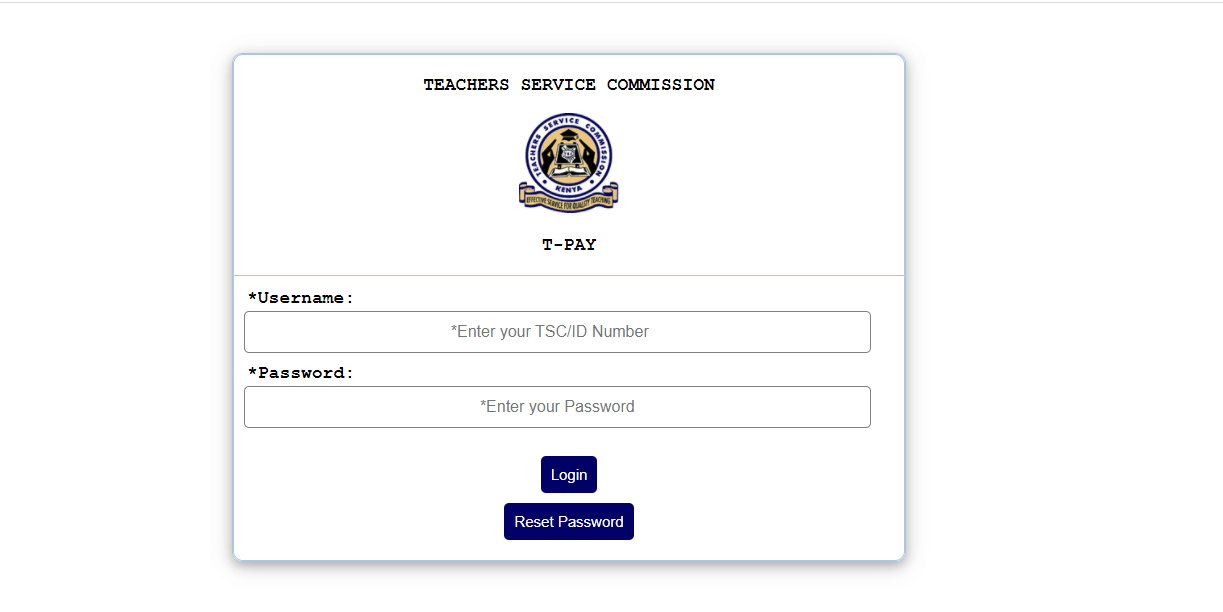 After you log in on the left (If using a computer but on the phone, there will be 3 bars on the top left, which you click, and the following menu will be seen), you will see a menu like this:
Menu
Home
View Payslips
View P9 (s)
Send Payslip(s)
My Transactions
My Documents
Logout
To view your TSC Payslip online, you have to click on Latest Payslip (view Payslips)
I recommend after you login on to the portal to change your password to something familiar and easy to remember but a stronger password (not 123456 :))
How to download your TSC Payslip Online
The best thing about the portal is the ability for you to download your payslip. It is easy; when you are logged on, you can click on the print tab located at the bottom of the page to download.
If you want, you can also take a screenshot and save the payslip on your phone.