This article will show you how to link PayPal to Mpesa service. I will show you step by step how to link PayPal with Mpesa and top up PayPal's accounts from M-Pesa. I will also show you how to withdraw money from PayPal to your M-Pesa account.
A few years ago, PayPal and M-Pesa partnered to enable their users to transfer money between the two platforms, and we know this service as PayPal Mobile Money Service.
This fundamentally changed the digital payments world, especially in Kenya. Payers in Kenya can make payments to M-Pesa registered mobile money accounts using their balance, bank accounts, and credit cards.
Conversely, M-Pesa users can quickly top up their PayPal accounts and use PayPal's online payment services.
Today, I will show you how to get started with PayPal Mpesa.
Let's get started.
How to link PayPal to Mpesa
To get started, link PayPal to Mpesa together. You need to have a PayPal account and a Safaricom mobile number.
Here is how to link paypalmpesa accounts:
Visit PayPal's M-Pesa page by typing in https://www.paypal-mobilemoney.com/m-pesa.
Log into PayPal using your PayPal username and password
Agree to PayPal's terms and conditions for the service.
Add the M-PESA number you want to link with PayPal
PayPal will send an SMS verification code to your M-PESA number
Key in the verification code PayPal sent you on your M-PESA account and complete the linking process
You have completed the process of linking PayPal to Mpesa!
Mpesa to PayPal Top-Up Process
Now that you have linked PayPal and M-Pesa, you can use the service to top up your PayPal account anytime.
Follow these steps to send money from Mpesa to PayPal.
Step one: This is optional; visit the PayPal mpesa link: https://www.paypal-mobilemoney.com/m-pesa and log in. I always use their currency converter to know how much I should top up in Ksh and what it will be in USD.
Also, on this page, you will find the PayPal Pay Bill Number 800088, which I think is handy as you might forget this number.
Step two: Open M-Pesa on your phone, select "Lipa Na Mpesa, " and then Pay Bill. Use the PayPal Mpesa Pay bill number 800088 and your phone number as the account number.
Step three: Enter the amount you will load to PayPal and submit. It will be successful and instant. You will receive a message from Safaricom confirming the transaction's success. On the other end, PayPal will send you a confirmation to your email.
If you use a different number, the transaction won't go through. Also, the usual M-Pesa charges will be applied.
How do I withdraw money from PayPal to M-Pesa?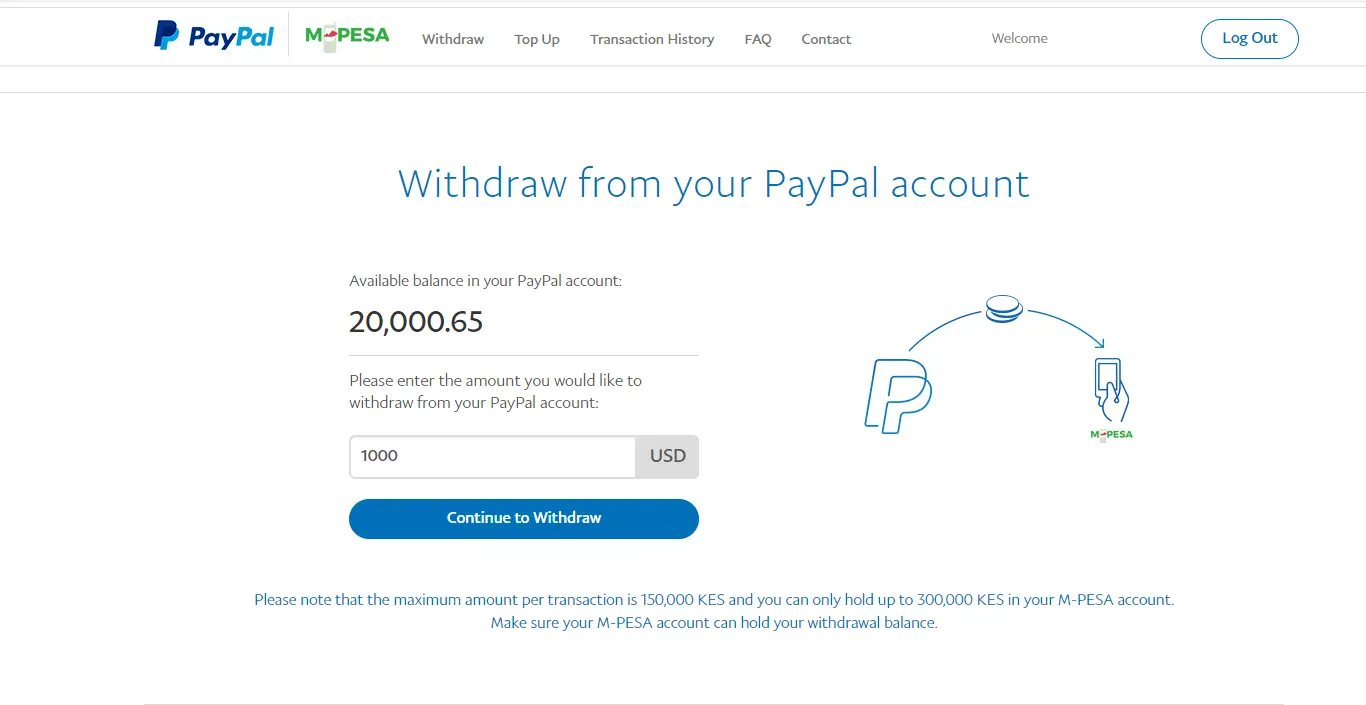 After you have linked your PayPal account to M-Pesa, you can withdraw from PayPal to your Mpesa account. They will convert the amount from USD to Ksh and transfer it to your Safaricom MPESA account.
Here is how to withdraw money from a PayPal account:
Log in with your PayPal user details.
Select Withdraw from PayPal
The next screen will show you the available PayPal balance in your account.
Enter the amount you would like to withdraw and click. Continue to Withdraw.
They will send the money to your M-Pesa account in a few minutes.
The maximum amount per transaction is 150,000 KES; you can't withdraw any amount larger than this.
Conclusion
I hope you have learned how to link PayPal to Mpesa and how the process works. As you can see, it's quite straightforward.
It takes seconds to minutes to receive money from PayPal to Mpesa, and the transaction is usually completed easily.
PayPal has made it easier for Kenyans to receive and withdraw money from their accounts.